About us
Surprise your family and friends with spicy delicious Thai and Asian cuisines from Thai Thae. We are located at 33 Mcmahon St Hurstville NSW and we are available for delivery and pickup. Our Entrée includes Deep Fried Spring Roll, Curry Puff, Salt & Pepper Calamari, Duck Larb and Peking Duck. For our Curry and Soup menu, we have Chicken Coconut Soup, Tom Yum Seafood, Tom Yum Prawn, Green Curry, Massamun Chicken and Chicken or Beef Salad. You should also try our Chef Recommendation menu that includes Duck with Plum Sauce, Salmon Salad, Deep Fried Barramundi, Massamun Lamb Cutlets and BBQ Chicken or BBQ Beef. For deliveries and pickup, you can simply click on our Order Online button.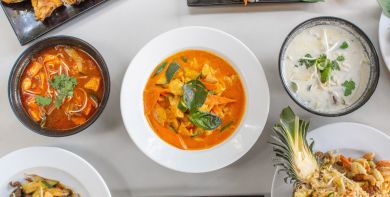 Reviews
Nathan
"We have ordered from Thai Thae several times and they are fast and friendly. The red curry was delicious."
9/01/2020
Pat
"The Thai dishes are always delicious and delivered early"
5/01/2020